There are rumours at social media as well as newspapers regarding the Opening of Schools wef 1st June 2020. One of the news published in Daily Express that is too fake.  According to Dr. Murad Raas Page, this is not real news and is a fake one.
Clarification Opening of Schools wef 1st June 2020
According to these newspapers, the Ministry of Education has decided to re-open all educational institutions with effect from 1st June 2020. The newspaper says that schools will open at 7 am and close at 11 am. All board exams will also manage in June 2020. The originator of this news is Qaisar Sherazi. According to him, the Government has decided to re-open all schools, universities and colleges with effect from 01-06-2020. There they will manage no morning assembly and break for the students.  All schools will open at their standard time with effect from 15th August 2020. They will start admission from class 1st to class 8th in August.
There are given more details in this news clip. But all are fake.  Dr. Murad Raas clarified that no such decision they have taken yet for opening of schools/colleges/universities.  They will decide in this regard during the last week of May 2020. They will look at the entire situation at that time and will decide in the best interest of the students.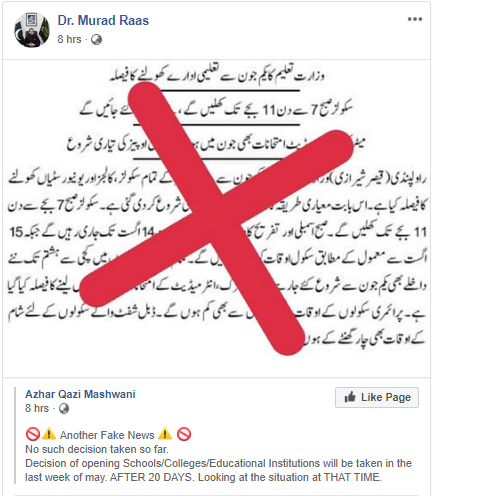 When Actually The Educational Institutions will Re-Open?
There is no exact date of the re-opening of the educationals institutions all over Pakistan. It depends on the situation of the spread of Covid-19. The committee will decide about the schedule of the institutions keeping in view of the condition of the disease. I hope the situation will better and the committee/board will decide in favour of the students.
You may also like: All Pakistan Board Exams Postponed