Last Updated on May 19, 2020 by Galaxy World
Government of Sindh, Services, General Administration & Coordination Department has issued Notification on 18-05-2020 in connection with Opening Further Offices by Sindh Govt. The details of the same are as under:
Opening Further Offices by Sindh Govt
In continuation of this Department's Notification of even number dated 11th May 2020 and as precautionary measures against the spread of Coronavirus (COVID-19), the Government of Sindh has further decided to open the officers of Secretaries of following Administrative Departments are required to implement the instructions contained in the Advisory issued by Health Department vide letter No. To-VII((PH)NCOV-2/2020/32, dated May 9, 2020:-
Collage Education Department.
Cooperative Department.
Culture, Tourism, Antiquities & Archives Departement
Department of Empowerment of Persons with Disabilities (formerly Special Education Department)
Forest & Wildlife Department.
Human Settlement Spatial Dev. & Social Housing Department (formerly Katchi Abadis Department)
Inter-Provincial Coordination Department.
Livestock and Fisheries Department
Mines and Mineral Development Department
Population Welfare Department.
School Education & Literacy Department.
Sport & Youth Affairs Department.
For the information of visitors, the Sindh Government has already issued Notifications two times in this regard. Special thanks to Mr. Muhammad Bux Saleem Khaskheli for sending a copy of the Notification of Opening Further Offices by Sindh Govt.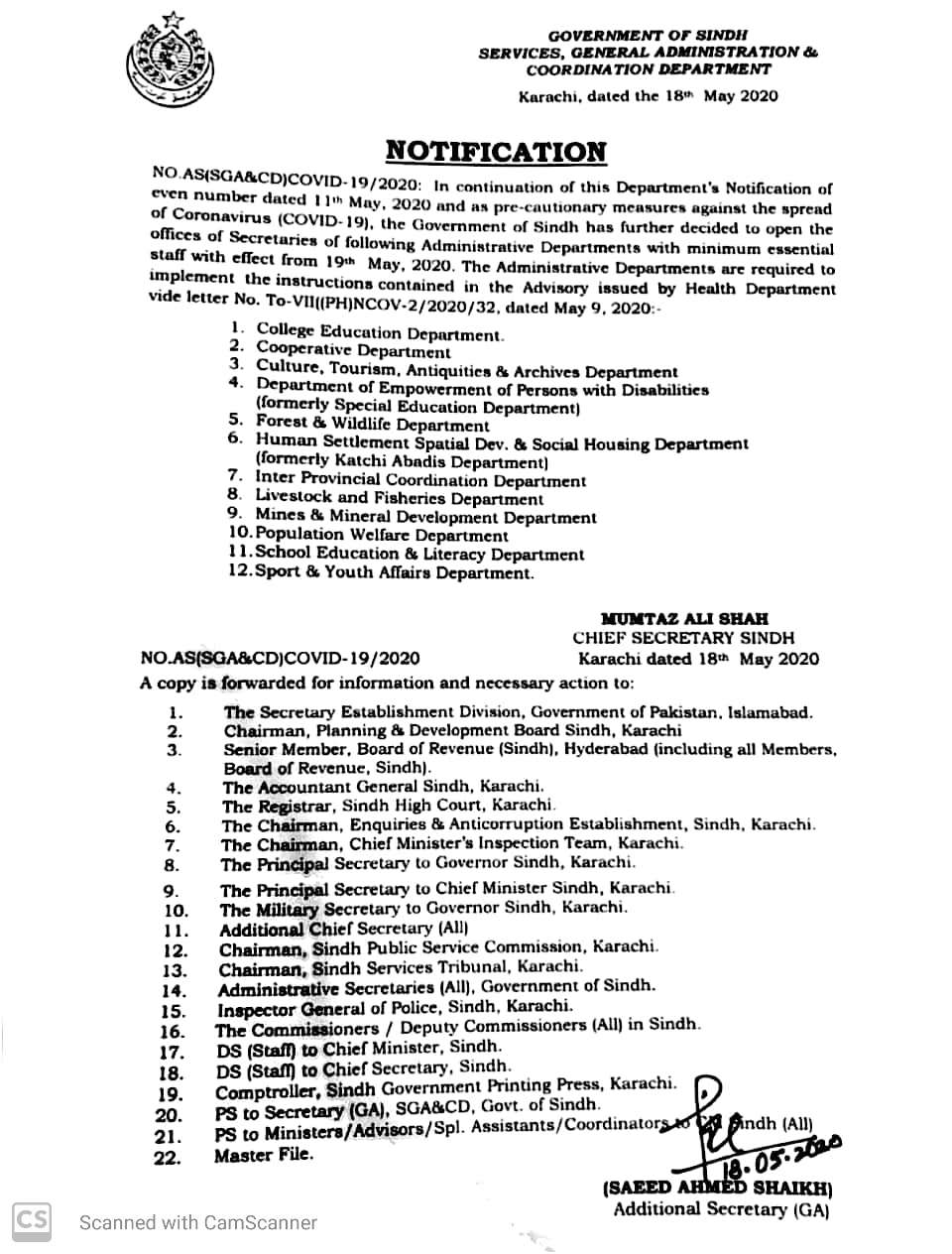 You may also like: Opening of 4 more Departments in Sindh