Last Updated on July 23, 2020 by Galaxy World
Faisalabad Electric Supply Company Limited has issued Office Order on 23-07-2020 in connection with Hardship Allowance to FESCO Employees. The details are as under:
Hardship Allowance to FESCO Employees
BOD FESCO through Resolution No.120/Secy dated 22.07.2020, conveyed vide Company Secretary FESCO letter No.3892/Secy/P-2 dated 23.07.2020, has resolved and approved the payment of Hardship Allowance equal to one (01) month running basic pay to all FESCO servants (Regular, Contract, Deputation & Daily Wages) on account of circumstances encountered by the employees during Covid-19 period and improved recovery position as conveyed by GM (HR) PEPCO vide letter No.6182-6202/MDP/SWD/50 dated 20.07.2020.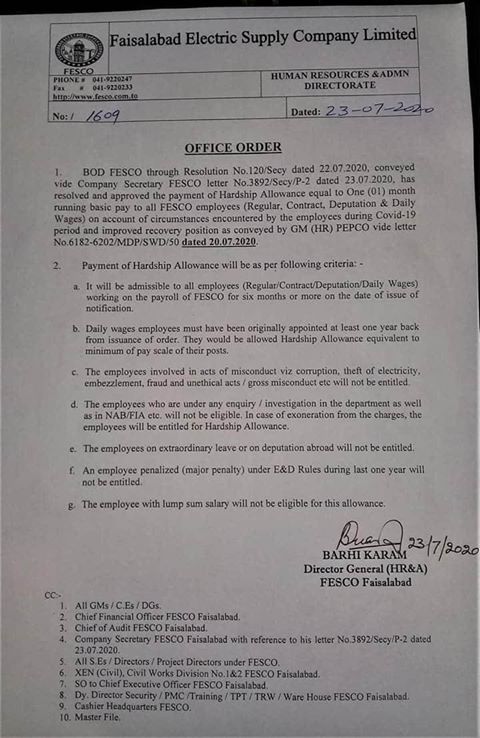 Bonus to IESCO Employees 2020
In the same way, Islamabad Electricity Supply Company has also issued Notification on 23rd July 2020 in connection with Bonus / Hardship Allowance.
IESCO Board of Directors, In its Meeting held on July 22, 2020, is pleased to approve the payment of Hardship Allowance equal to one month's running basic pay to all employees of IESCO, subject to fulfillment of criteria (Resolution: 187-BOD-R07 ref.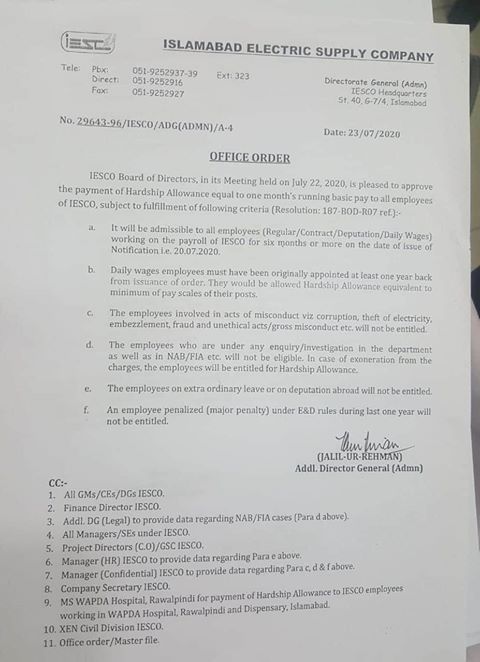 The concerned departments have sent a copy of these letters to various offices. The employees of various grades will get this allowance. There are some conditions that the employees must fulfil to get this Hardship Allowance.
Special thanks to Chuhdary Ahmad who sent the copies of the Notifications for the info of employees.
You may also like: Waiver University Dues / Charges by Punjab University