Last Updated on August 6, 2021 by Galaxy World
Government o the Punjab Law and Parliamentary Affairs Department has issued a Notification on 24-02-2021 in connection with Junior Clerks Regularization from Date of Initial Appointment Instead of immediate effect. The details of the same are as under:
Junior Clerks Regularization from Date of Initial Appointment
I am directed to refer to your letter No.SOP-II(S&GAD)14(2700)/09 dated 23.02.2021 on the subject and to state that  Law Department has already advised in the matter and has also recorded its view on a Note for Additional Chief Secretary, The Hon'ble Supreme Court of Pakistan has laid down a principal in its judgment cited as 2009 SCMR 1, ordaining that a relief granted to any litigant by the judgment of Tribunal or Supreme Court is also to be provided to similarly placed employees, albeit non-litigants. Laying obeisance to this Principal, the Junior Clerks, appointed on a contract basis, are entitled to the regularization of their service from the date of their initial contract appointments. The seniority list is also to be prepared mutatis mutandis, by giving effect to the above-referred principal.
Special Thanks to Mr.  S. Adnan Haider for sending the copy of the Notification of Regularization of contract Junior Clerks (JC) from their first appointment.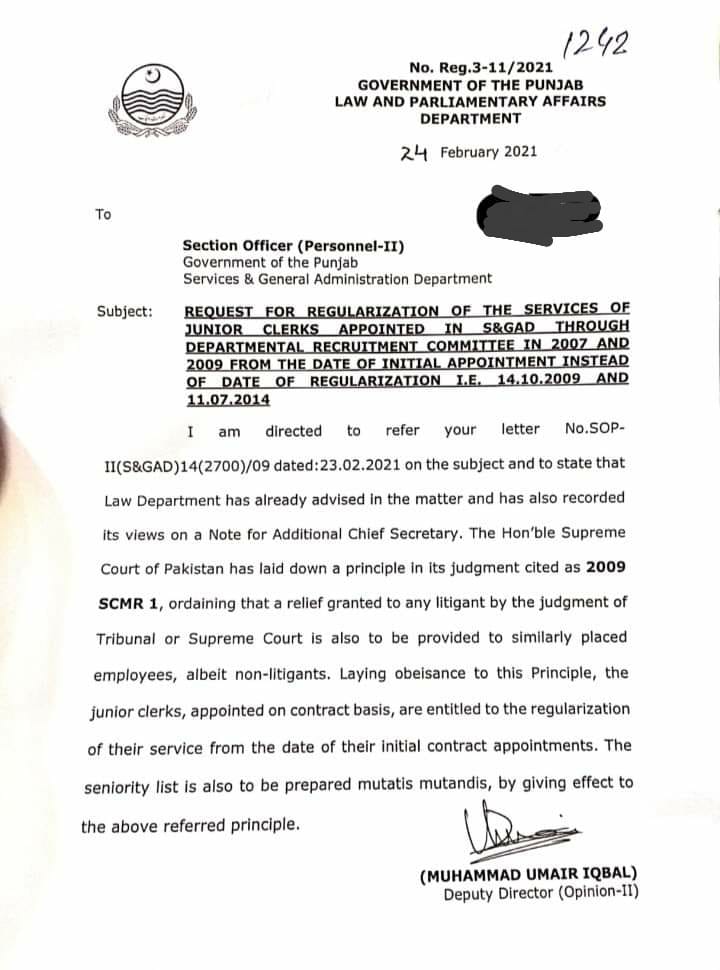 You may also like: Restoration of Saturday Holiday