Last Updated on February 11, 2023 by Galaxy World
Office of the District Education Officer (Male) Kohistan Lower issued an Office Order on 02-02-2023 in connection with Protection of Pay on Contract and Adhoc Basis with All Benefits. The details are as under:
From the Initial date of Appointment Protection of Pay on Contract and Adhoc Basis with All Benefits
In pursuance of Finance Department Notification F.No. (a) R-I/2012 dated 31-05-2013 No.FD(SDSR-I) 12-7/2014 dated 06-02-2014 and clarification Notification vide F.No.7(a)R-I/2012/1388 dated 06-03-2014, regarding the protection of pay of contract employees on regularization/ Appointment on regular basis.
Sanction is hereby accorded for protection of pay in respect of the following officials appointed as AT, TT, CT posts on an Adhoc and contract basis in the school and the date of the first appointment noted against each and after that regularized against AT, TT, CT post from the date of their initial appointment vide notification no and date mentioned against their name Before their appointment as TT, AT, CT they were regular employees of the education department on different posts as mentioned against each without any break of service.
Hence they are considered regular employees from the date of their first appointment with all benefits as admissible to them under the rules.
List of Employees Got Back Dated Regularization and Other Benefits
Here is the list of the employees who have got benefits of protection and pay and other backdated pay protection:
S.No
Name of official/Designation with school
D/O Regular Appointment
Date of App: as the contract
Previous Post
Regularization Notification No & date
1.
Mr. Ghudranullah (TT) GMS Kotia
20-03-2015
07-03-2020
PST
No.6647-54

Date 14-12-2022

2.
Mr. Ali Muhammad (AT) GMS Sheshal
01-04-2015
25-06-2021
Qari
6697-04

Date 14-12-2022

3.
Mr. Rahimdad (CT) GMS khan Abad
31-03-2017
25-06-2021
PST
6639-46

Date 14-12-2022
Note: Necessary entries to this effect should be made in their Service Books accordingly.
Finance Division Govt of Pakistan has also issued the Notification of Anomaly Fixation of Pay due to the Basic Pay Scales 2022 introduction for government employees. The employees getting less basic pay but more basic pay can get benefits from this Notification. Many employees who have issues with their pay protection and regularization can get guidance from this Notification of Kohistan District Education Department Notification of pay protection.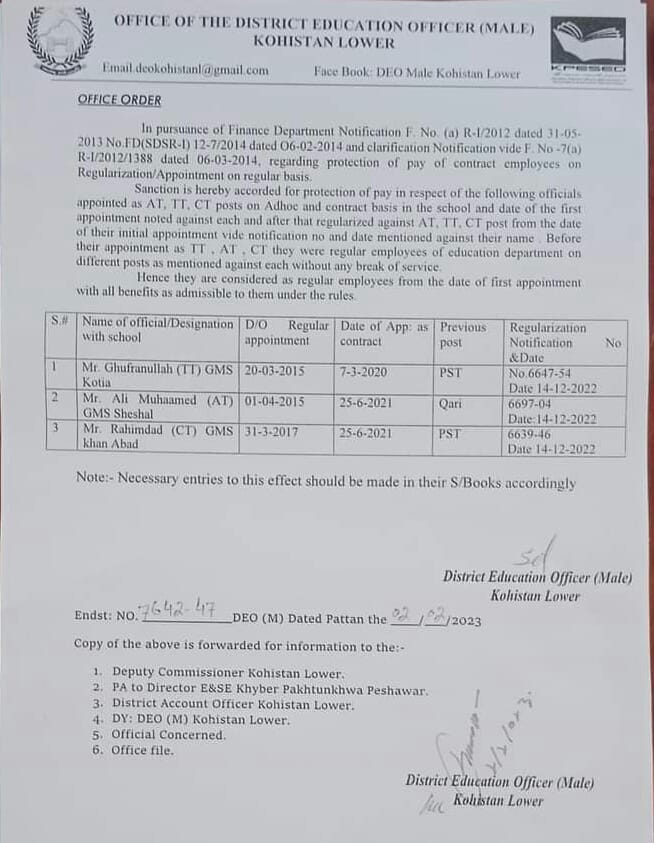 Summary for School Teachers Regularization and Pay Protection
As per the above OM, the employees will get the following benefits:
Regularization from Date of the initial date of appointment
Protection of Pay from their 1st appointment
Grant of all benefits as a regular employee
Three teachers of Lower Kohistan District got these benefit