Last Updated on August 6, 2021 by Galaxy World
Government of the Punjab and KPK have issued Notifications regarding Opening Schools and Colleges on 31st May 2021. The Government has decided so for class 10th and 12th only. The remaining classes will start with effect from 7th June 2021.
Opening Schools and Colleges on 31st May 2021
            The schools and colleges for class 10th and 12th will open in a staggered manner. 50% of students will come one day and the remaining 50% of students will attend the classes on another day.
In continuation of this Department's notification of even number dated 16.05.2021, 21.05.2021, and 28.05.2021 and in pursuance of decisions taken in the National Command and Operation Center (NCOC) meeting held on 25-05-2021, the classes of grade 10th and 12th are hereby ew-opened throughout the Province of Khyber Pakhtunkhwa w.e.f 31-05-2021.
All the educational institutions will follow the SOPs and necessary instruction in this regard already issued.
Notification by KPK Govt for Starting 10th & 12th CLass wef 31-05-2021
Government of Khyber Pakhtunkhwa, Elementary & Secondary Education Department issued Notification on 30-05-2021 regarding the school/colleges opening.
You may also like: Date of Announcement Budget 2021-2022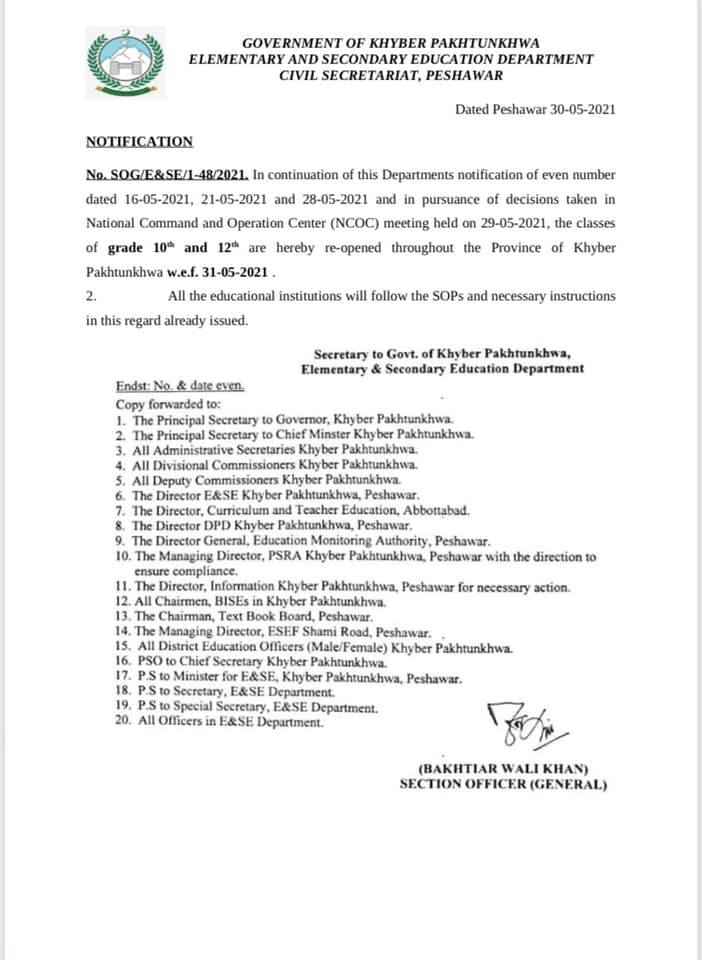 Punjab Govt Announcement for Opening 10th & 12th Classes
Punjab Education Minister, Mr. Murad Raas also announced to start the classes of X and XII on 31st May 2021. The same decision the Govt made due to a decrease in COVID-19 cases in the province.
Notification by Punjab Education Department
The government of the Punjab School Education Department also issued the Notification on Sunday 30-05-2021 to start classes of X and XII in all districts of Punjab province.