Last Updated on April 2, 2022 by Galaxy World
Government of Pakistan (Establishment Division) Secretariat Training Institute has issued a Notification on 16-03-2022 in connection with the Proficiency Test for Grant of Proficiency Allowance Equal to Two Increments. The details are as under:
Proficiency Test for Grant of Proficiency Allowance
Secretariat Training Institute is planning to schedule the 62nd proficiency test for Assistant Private Secretaries (APSs), Steno typists, and LDCs at its campus, H-9, Islamabad during the month of May 2022. The employees of said categories belonging to Federal Ministries/ Divisions/Attached Departments are eligible to apply for the test whereas, the employees of other departments which have not been declared as Attached Departments of Ministries/Divisions by the Cabinet Division in Schedule-III of Rules of Businesses, 1973 are not eligible. The required speed in shorthand and typewriting for qualifying for the test is described as under:-
Required Speed for Shorthand and Typewriting
| | | |
| --- | --- | --- |
| a. | Assistant private secretaries (English/Urdu) | 125 wpm in Shorthand |
| b. | Steno typist (English/Urdu) | 100 wpm in Shorthand |
| c. | LDCs (English/Urdu) | 50 wpm in typewriting |
Terms and Conditions
Ministries/divisions/attached departments of the federal government should forward nominations of only those employees, who qualify the criteria for the test and fall within the purview of Establishment Division Office Memorandum No.10/2/79. D-II date 8th August 1995. The nominations should reach this institute latest by 15-04-2022. The Institute will not entertain the Law nominations.
In order to enable STI to make quick contact with the nominating Officers of Ministries/ Divisions/ Attached Departments are also requested to indicate their complete addresses with telephone and Fax numbers etc. while forwarding the nominations.
The result of the candidates will be conveyed to the nominating Officers.
No TA/DA will be paid by STI for appearing in the above test. However, candidates may claim the same from their own offices, if admissible.
You may also like: Notification of Nisab of Zakat 2022 Rramzan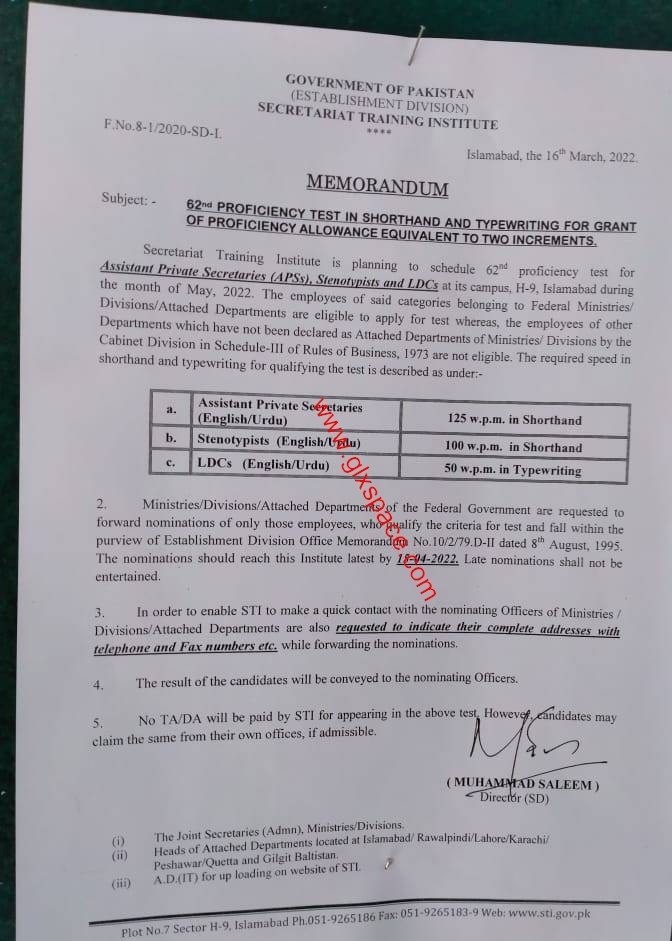 Special Thanks to Mr. Muhammad Saleem for sending the copy of the Notification of Typing Test for LDCs, Assistants, and Stenographers for proficiency allowance.