Last Updated on July 20, 2022 by Galaxy World
Government of Punjab, Higher Education Department has issued a Notification on 19-07-2022 in connection with Notification 25% Special Allowance on Initial basic Pay BZU Multan (Baha –ud Din Zakariya University Multan).  The HED issued Notification NO. SO(Univ.)6-5 / 2020 dated 19th July 2022 in this regard.
25% Special Allowance on Initial Basic Pay BZU Multan
The Governor / Chancellor pleases to approve the grant of Special Allowance 2021 @ 25% of the initial of Revised Basic Pay Scale, 2017 to the employees of Baha-ud-Din Zakariya University, Multan from BPS-01 to BPS-19 with immediate effect as per the following conditions:
Terms and Conditions of SA-2021 BZU
The employees of  Public Sector Universities in BS-01 to BS-19 will get this allowance who are drawing pay and allowances against relevant BPS and are not drawing any service-specific or special allowance except usual allowances viz-a-viz House Rent Allowance (HRA), Medical Allowance (MA), Conveyance Allowance (CA), and Adhoc Relief Allowance-2016, ARA-2017, ARA-2018 & ARA-2019.
The employees who are getting fixed / lump sum pay packages or on the tenure track, will not get this Special Allowance 2021.
The concerned Public Sector University shall arrange the additional impact, if any, within their available resources, and no additional grant, the Government will provide for the subject purpose.
To cope with additional expenditures, the Public Sector Universities will not enhance their fee structure for students.
The other conditions as laid down in para-1 of Government of the Punjab, Finance Department's Notification No. FD.SR.V.3-1/2021, dated 07.07.2021 will also apply.
Special Thanks:
Sarmad Rehan
Mr. Shahbaz Nazir
Mr. Zahid Khan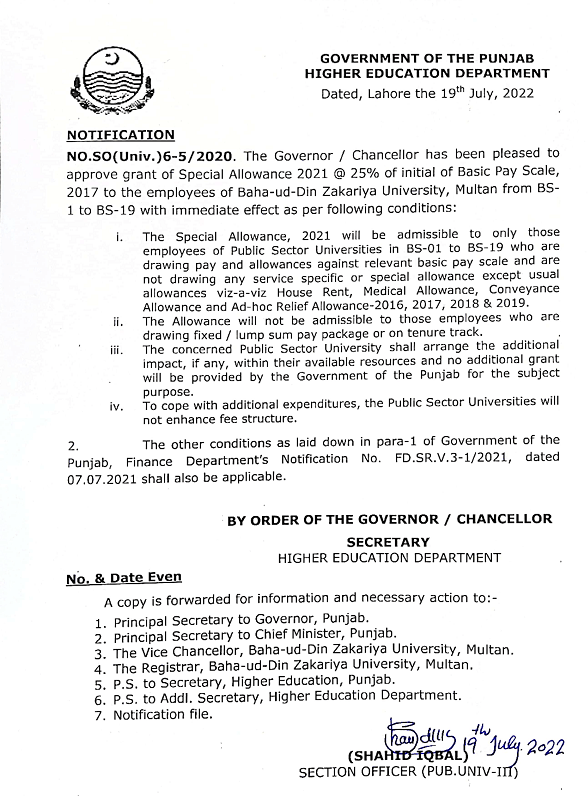 Employees of Other Department of Punjab
The employees of other Universities and Other Punjab Government departments have already got this allowance. Many of the employees are availing of this allowance with effect from 1st July 2021. Some of those started getting at a later stage. The employees of BZU Multan will get this allowance with effect from 19th July 2022.