Last Updated on January 27, 2023 by Galaxy World
Government of Punjab, Directorate of Public Instructions (EE) issued a Notification on 26-01-2023 in connection with the Disposal of Pending Promotion Cases hence allowing Only the Last Five Years PERs for Promotion. The details are as under:
Disposal of Pending Promotion Cases and Only Last Five Years PERs for Promotion Punjab
                  A large number of Teachers despite completion of 20/25 years of service on same the scale are still waiting for their promotions.
Cause of Delay of Promotion Cases
The main hurdle and cause of delay of their promotions are missing or incomplete ACR Relating to the Past Period of 10 to 15 years ago. Most Reporting Officers and Countersigning Officers either have retired from Govt. Service or died, thus, maintenance of the previous old record (C.R. Dossier) seems impossible now at this belated stage.
Retirement of Awaiting Posting Teachers
Such awaiting Teachers are nearer to retirement.  This issue came under discussion in a meeting of representatives of Teachers. Here is a chance for the teachers' promotion. The teaching staff was waiting for their promotion for a long.
Weightage for Teachers Waiting for Promotion
Secretary School Education has been pleased to settle this issue on a priority basis to redress the grievance of deprived teachers with remarks that if the last 05-years are complete in all respect, then for the assessment of the suitability of Teachers more weightage may be given to the service record /PERs for the past 05-Years.
The Directorate of Public Instructions Requests for Implementation of Decision
The Directorate of Public Instructions Request to ensure compliance with the letter on this matter and spirit and pending Promotion cases of all categories of District Cadre Teachers i.e. PST to EST and EST to SST may be disposed of accordingly. The other terms and conditions levied in Promotion Policy and amendments issued from time to time shall be observed strictly.
You may also like: Difference Between Time Scale and Regular Promotion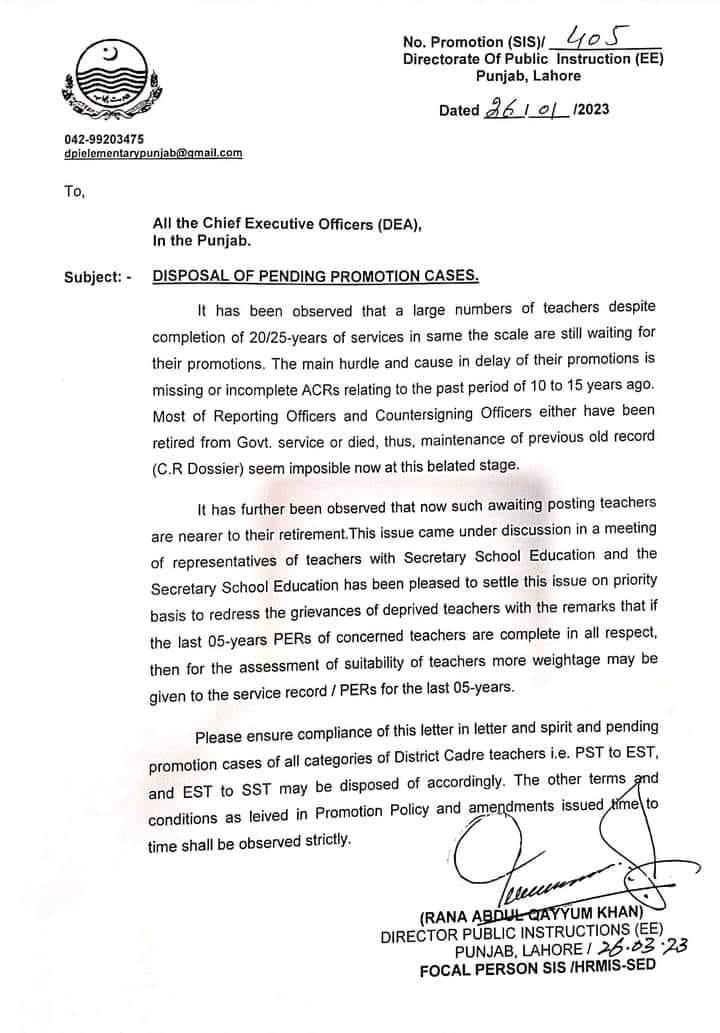 Controller General of Accounts has also issued the instructions regarding the Head of Account on Planning Performance Allowance for Punjab Employees of BPS-17 and above. This is good news for the government employees of Punjab.