Last Updated on February 2, 2023 by Galaxy World
Directorate Schools Education, Elementary Secondary & Higher Secondary Mirpurkhas Division Mirpurkhas issued a Notification on 02-02-2023 in connection with Service Continuation and Pay Protection of PSTs, JESTs, and ECTs Mithi District. The details are as under:
Pay Protection and Service Continuation of PSTs, JESTs and ECTs Mithi District
Service Continuation is hereby accorded in respect of appointed Primary School Teachers (PSTs) / Junior Elementary School Teachers (JESTs) Early Childhood Teachers (ECTs) of Mirpurkhas / Umerkot/Tharparkar  @ Mithi Districts, (both Pry & See side appointed in the Years 2019-20 and 2022), who were already in Government service in Education Department, applied through proper channel (obtained NOCs from Education department/offices), and joining their duties on new posts.
II
The Department has accorded their Pay Protection to the concerned teachers i.e. PSTs/JESTs/ECTs. The DDO concerned shall ensure entries of Regularization/Service continuation & Fixation of Pay in their Service Books.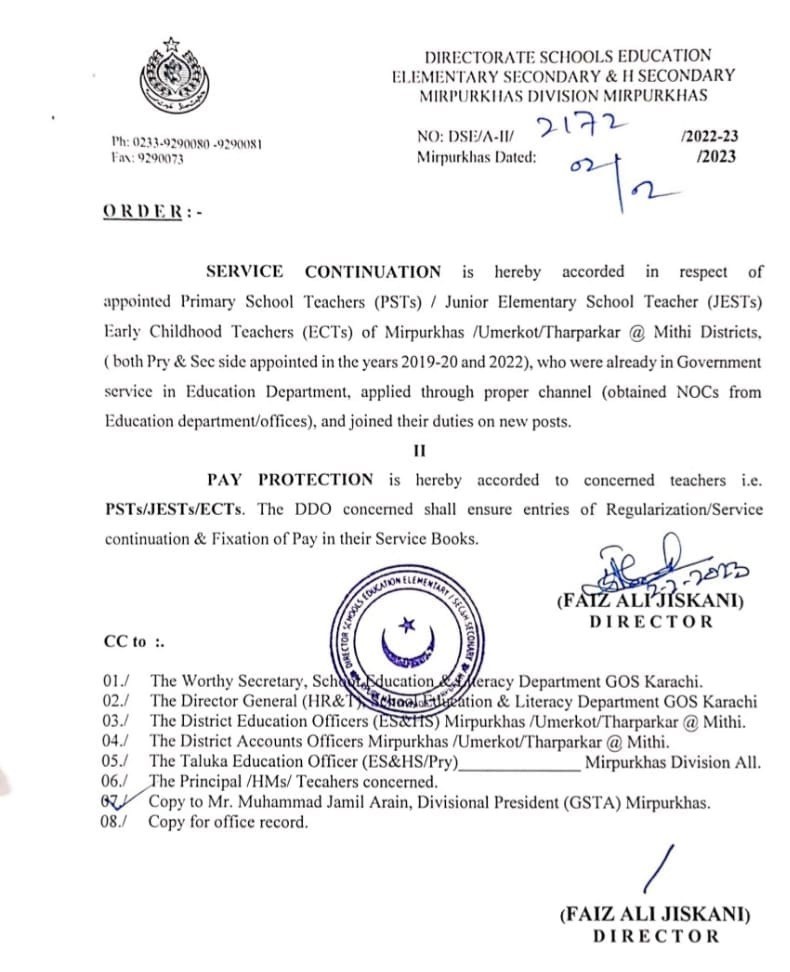 Reason for their Pay Protection
These employees got appointments in 2019-20 and 2022
Such employees were already in Government service
These employees appointed through the proper channel
They also got NOC from the Education Department
They have joined their duties on new posts
This is a good decision for the Education Department. Now, these employees have got their pay protection. These employees belong to the following areas of Sindh:
Mirpurkhas
Umarkot
Tharparker
Mithi District