Last Updated on February 20, 2023 by Galaxy World
Government of Pakistan, Finance Division issued a Notification on 17-02-2023 in connection with Grant Executive Allowance BPS-17 to BPS-22 to Federal Secretariat and ICT Filed Administration. The details are as under:
Grant Executive Allowance BPS-17 to BPS-22 Federal Secretariat and ICT
In Continuation of Finance Division's OM No.10(02)R-3/2018-297 dated 19.07.2022, the undersigned is directed to convey the approval of the Prime Minister for admissibility of Executive Allowance to all BPS 17-22 officers, (excluding Private Secretaries), posted/working in the federal Secretariat, as defined in the rules of Business 1973, as well as Prime Minister's Office and President Secretariat w.e.f. 01.01.2023 subject to the following conditions:
Terms & Conditions of EA
The Executive Allowance shall remain extended to ICT field Administrative as notified earlier.
The Terms and Conditions for the admissibility of the Executive Allowance shall be the same as other allowances admissible across the board in the Federal government. Paras, vi, vii, and vii of the Finance Division OM of even No. dated 19th July 2022 shall accordingly stand amended.
All other conditions as laid down in Finance Division's O.M ibid shall remain operative.
The employees in the ICT Field Extended employees will also get this allowance.
The effective date of this Executive Allowance is 1st January 2023
Finance Division has sent a copy of this notification to all concerned offices.
The Finance Division has already issued the Notification of Executive Allowance 2022 @ 1.5 times of Basic Pay on 19-07-2022.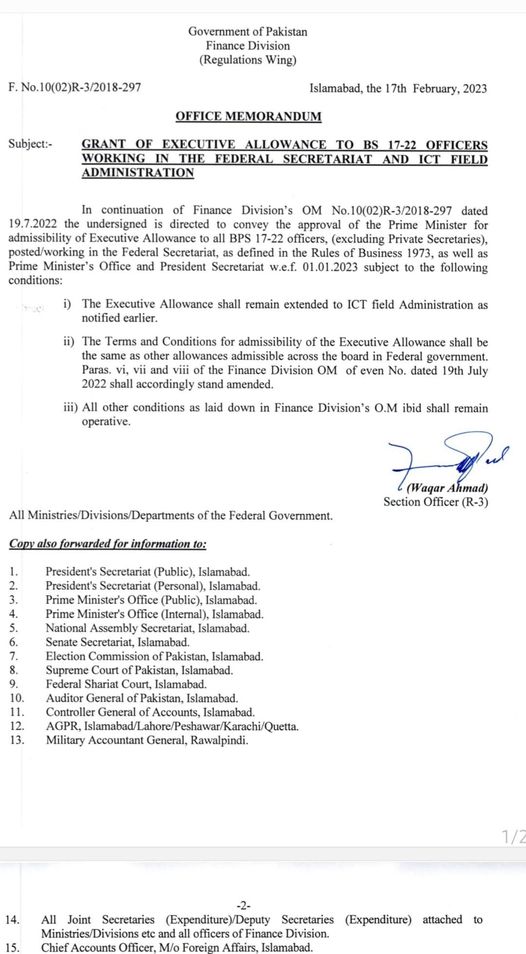 You may also like: Payment Conveyance Allowance Arrears on Monthly Basis