Annual Increment 2015 is due on 1st December 2015 for almost all the employees. The summary of Increase in Salaries after Annual Increment 2015 has been mentioned below in detail for each pay scale.
Which Allowances will Increase alongwith the Annual Increment 2015
Almost all the allowances have been frozen at the level the employees were drawing on 30-06-2015. Only 7.5% or 10% ARA-2015 are on the basis of running basic pay. There may be some other allowances that will increase with t he increase of the annual increase in certain departments but here to mention only the allowances for general department's employees.
Increase in Salaries after Annual Increment 2015 having 7.5% ARA-2015
In the recent budget 2015-16 Federal Govt of Pakistan, Punjab Govt and Balochistan Govt granted 7.5% Adhoc Relief Allowance 2015 to their employees. This allowance is granted on the running basic pay. So the increase in salaries after annual increment 2015 will be as under from BPS-01 to BPS-22: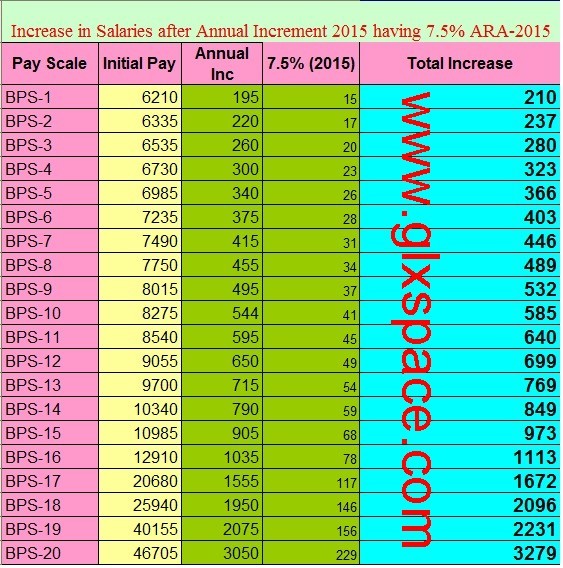 Increase in Salaries after Annual Increment 2015 having 10% ARA-2015
Government of Khyber Pakhtunkhwa and Sindh Govt granted 10% Adhoc Relief Allowances for their employees with effect from 1st July 2015. This allowance is also still on the running basic pay. So the summary of the increase in salaries after annual increment 2015 for these provinces employees will be as under: