Last Updated on March 30, 2020 by Galaxy World
Directorate of Inspection / Registration of Private Institutions Sindh School Education & Literacy Department, Government of Sindh has issued Notification on 30-03-2020 Monthly Fee by Students and Salary to Private Teachers Sindh. Detail is as under:
The administration of all Privately Managed Educational Institutions of Sindh is hereby directed to issue only monthly fee challan instead of quarterly / bimonthly to their students, as it was decided in the meeting of the steering committee. Any School desirous to great concession in the fee to the deserving students in the crises, this act of generosity will be highly appreciated.
The Teaching and other staff members working in Privately Managed Educational Institutions must be paid their salary in full and in time.
Non of the teaching and non-teaching staff will be terminated from his/her services during the period of closure of school because of the prevailing epidemic.
If any school is found in violation of aforesaid directives will be dealt under "The Sindh Private educational Institutions (Regulation & Control) Amendment Act-2003 and Rules-2003", which may lead to suspension / cancellation of registration of school.
Special thanks to Mr. Muhammad Bux Saleem Khaskheli for sending the copy of the Notification of Monthly Fee by Students and Salary to Private Teachers Sindh.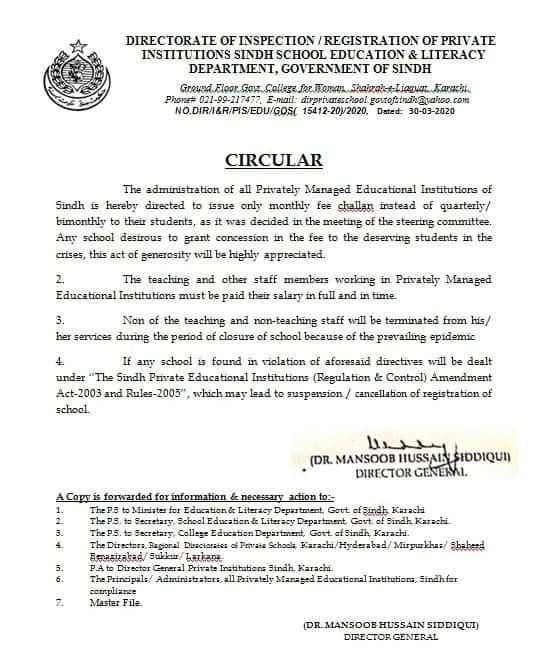 You may also like: Notification of Stay at Home Teaching & Non Teaching Staff