Government of the Punjab, Services & General Administration Department has issued Notification on 10-06-2020 in connection with Instructions Regarding Opening of Offices with Skeleton Staff. The details of the same are as under:
Instructions Regarding Opening of Offices
I am directed to refer to this Department's letter of even number dated 5th June 2020 regarding the opening of offices.
In view of the alarming increase in the number of COVID-19 cases, the Competent Authority has desired as under:
i) For offices opened with skeleton staff (Reference Notifications of even number dated 23.03.2020, 26.03.2020 and 31.03.2020),
The Administrative Secretaries (ACS where Applicable) are desired to re-determine their essentially required staff to attend office. Unnecessary staff may not be called to attend office.
ii) For offices opened to the extent of Administrative Secretaries (Reference Notification of even number dated 14th April 2020)
The Administrative Secretaries (ACS where Applicable) only themselves along with their personal staff will attend office. Remaining staff/officers will continue to work online as already directed.
The Competent Authority has desired to follow the instructions in letter and spirit. s
Special thanks:
Mr. Irfan Munir
Mr. Muhammad Tanveer Ashraf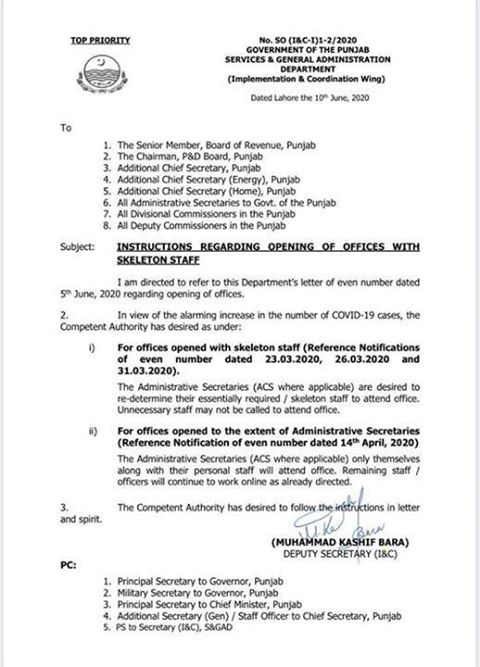 S&GAD Department has sent the cop of these orders to concerned offices for their compliance and further necessary action.
You May Also Like: Latest Updates of Salary Increase in Budget for Govt Employees