Last Updated on August 10, 2021 by Galaxy World
Government of Gilgit Baltistan, GB Secretariat, Finance Department has issued Notification on 03-07-2020 in connection with Incentive Allowance 2020 @ 100% of Initial Basic Pay Scales 2017. The details are as under:
Consequent upon recommendations of the Gilgit-Baltistan Cabinet and subsequent approval of the Finance Bill 2020-21 by the Gilgit-Baltistan Assembly, the Governor Gilgit-Baltistan has been pleased to section Incentive Allowance @100% of initial Basic Pay Scales of 2017 with effect from 1st July 2020 in favour of employees from BS-1 to BS-16 serving against sanctioned posts in Governor's Secretariat, Chief Minister's Secretariat and Civil Secretariat Government of Gilgit-Baltistan.
The above allowance will be admissible subject to the following conditions:-
i) It shall not be counted towards pension, gratuity, and recovery/calculation of house Rent.
ii) it shall not be admissible during extraordinary/study leave and deputation.
The above Incentive Allowance shall be accommodated from within the budgetary allocation for the year 2020-2021 by the respective departments.
Special Thanks to Mr. Ibrahim Mhd for sending a copy of the Notification of Incentive Allowance @ 100% of Basic Pay Gilgit-Baltistan.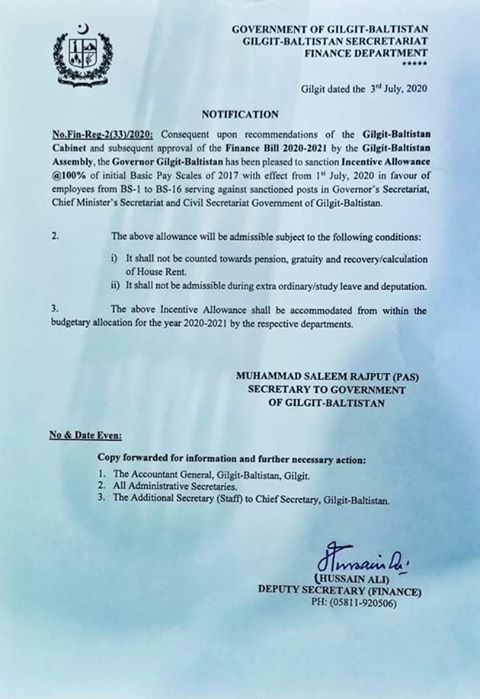 Note: This allowance is not for all the employees of the Gilgit-Baltistan. Only the employees of the following will get this allowance:
Governor's Secretariat
Chief Minister's Secretariat
Civil Secretariat
You May Also like: Directory Retirement Committee by Finance Division