Last Updated on August 10, 2021 by Galaxy World
National Education Foundation is granting Scholarships for Children of Federal Govt Teachers and widows of the teachers. NEF is also granting Financial Assistance to the eligible ones on the basis of efficiency. The duration of the financial assistance and stipends/scholarships is for three years.
Scholarships for Children of Federal Govt Teachers
National Education Foundation federal Educations and Professional Training invites the applications from the following:
Working Federal Government Teachers
Retired F.G Teachers
Conditions for Scholarship:
For One Child of Serving FG Teachers
For Two Children of Retired Federal Govt Teacher
Applicant must be the student of any recognized educational institution
The applicant must not be getting any other scholarship except educational efficiency/prominent efficiency scholarship / Zakat Financial Assistance
The students from Class 5th to Master Level can get the scholarship. The students of Medical Engineering and D. Pharmacy are not eligible for this stipend.
The applicant must have got minimum of 60% marks
Conditions for Scholarship for the Children of Deserved Teachers
All the above-mentioned conditions are also applicable to the children of deserved teachers except the condition of 60% marks.
Financial Assistance to the Widows of FG Teachers
All employed and un-employed widows of the FG Teachers can apply for the scholarship.
The National Education Foundation, Islamabad published this announcement on 27-09-2020. The willing ones can apply within 15 days of the announcement of these stipends/scholarships. The National Education Foundation Will grant the scholarships purely on a merit-based/Eligibility based.
How to Get the Application Form for Education Scholarships?
You can get application forms free of cost during office hours from National Education Foundations, Islamabad
You can also download the application form from below:
Get Application Form for Scholarship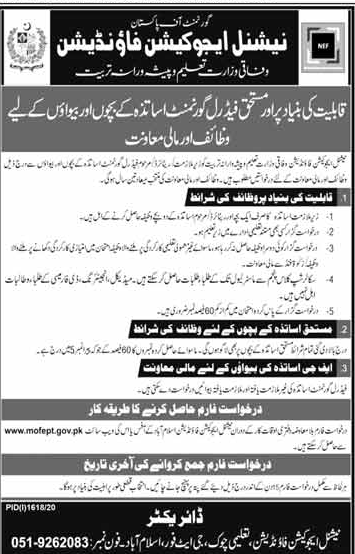 Address of the Office: National Education Foundation, Taleemi Chowk, G-8/4 Islamabad Contact No. 051-9262083. As soon as the NEF updates the Educational Scholarship Form, I shall update the same. Thanks