Government of Gilgit-Baltistan GB Secretariat Finance Department has issued a letter on 10-03-2021 in connection with Meeting of Standing Committee regarding Executive Allowance & Agitation by Employees. The details are as under:
Meeting of Standing Committee on Executive Allowance & Agitation by Employees
I am directed to refer to the above-noted subject and to say that Honourable Minister Fionenace Gilgit-Baltistan /Chairman Standing Committee has been pleased to revenue a meeting of Standing Committee of Cabinet on Financial Matters on Wednesday, 10th March 2021 at 03:00  Pm in the Conference Hall of Chief Secretary Gilgit-Baltistan. The following points will be discussed:
(i).  Agitation by the employees of Line Departments
(ii). Grant of Executive Allowance to the Military Secretary top Governor GB.
All members of the Committee are requested to make it convenient to attend the meeting on t given date, time, and venue, please.
Special thanks to Mr. Ibrahim Mhd for sending the copy of the letter regarding the meeting of the Standing Committee of the Cabinet on Finance Matters/Executive Allowance & Agitation by Employees of Gilgit Baltistan.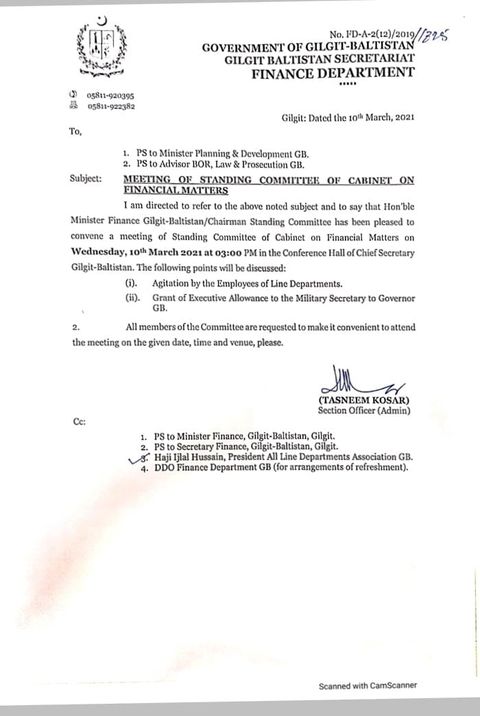 You may also like: MAG Letter Regarding DRA-2021 @ 25%