Government of the Punjab, Higher Education Department has issued a Notification on 06-04-2021 in connection with Schedule of Annual Exam 2021 and Holidays in colleges and universities of the Punjab.
Schedule of Annual Exam 2021 and Holidays
SO(Admn)Misc./2020: Pursuant to the decisions taken in the meeting of Inter-Provincial Educational ministers Conference (IPEMC) held on 6th April 2021 following directions are hereby issued to all the concerned:-
Academic activities/classes will resume in all colleges/higher education institutions both in the public and private sector from April 18th,2021 on a staggered basis in all the affected cities of Lahore, Faislabad, Gujranwala, Gujrat, Rawalpindi,  Multan, Sargodha, Sialkot, and Sheikupura which were suspended vide Notification of even number dated 30.03.2021.
All sorts of Examination / Assessment activities will also be allowed from the date of resumption of academic activities in all such institutions.
All Public and Private Universities will remain closed for conventional classes. However, online academic Activities in all such institutions.
All the International Examinations will be conducted as per the schedule already notified by the relevant authority. However, the O' Level Examinations will commence from May 10th, 2021.
SSC Examination in Punjab will be held in the third week of May 2021. A revised schedule for both SSC & HSSC Examinations will be issued by the Punjab Board Committee of Chairman.
All concerned authorities/heads of institutions shall ensure the compliance/observance of COVID-19 SOPs issued by the Primary & Secondary HealthCare Department from time to time, in later and spirit.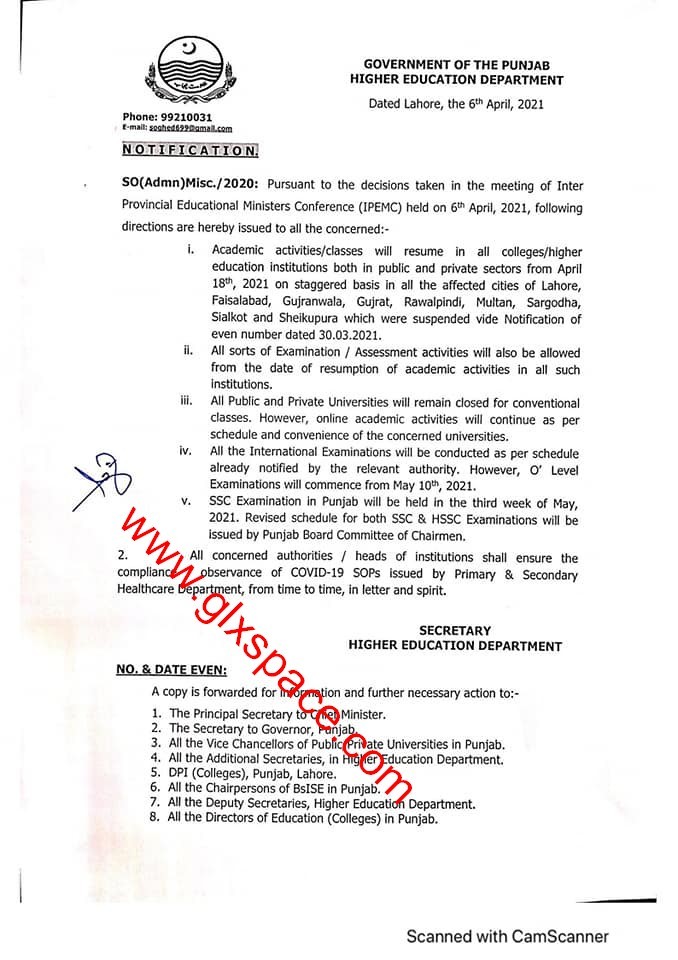 You may also like: Updates of Extension Holidays in Schools and Colleges