Last Updated on November 27, 2022 by Galaxy World
Federal Education Minister and Punjab Education Minister shared the latest Updates of Extension Holidays in Schools/Colleges as of 6th April 2021.  The main points of their statements are as under:
A/O Level Exams they will conduct as per the schedule and as per COVID-19 SOPs
Class 1 to 8th classes will not start up until 28th April 2021.
9th to 12th Classes Exams will start at the 3rd week of May 2021
Class 9th to 12th Classes will start with effect from 19th April 2021
In 80% of the world exams, they are not conducting
Updates of Extension Holidays in Schools/Colleges in Punjab
In Punjab the schools/colleges will remain closed in the following districts:
Lahore
Gujranwala
Sheikhupura
Rawalpindi
Rahimyar Khan
Multan
Bahawalpur
Sialkot
Gujrat
Dera Ghazi Khan
Faisalabad
Toba Tek Singh
ANNOUNCEMENT No. 1
All Public & Private schools Classes 1st to 8th to remain closed until Eid in Lahore, Rawalpindi, Gujrat, Gujranwala, Multan, Bhawalpur, Sialkot, Sargodha, Faisalabad, Toba Tek Singh, Rahim Yar Khan, Dera Ghazi Khan, and Sheikupura. The committee will review the decision in 2 weeks.
ANNOUNCEMENT No. 2
All Public & Private Schools classes 9th, 10th, 11th and 12th will open only on Monday & Thursday starting from April 19th, 2021 in Lahore, Rawalpindi, Gujrat, Gujranwala, Multan, Bahawalpur, Sialkot, Sargodha, Faisalabad, Toba Tek Singh, Rahim Yar Khan, Sheikhupura, and Dera Ghazi Khan.
ANNOUNCEMENT No. 3
All Examinations for Classes 9 through 12 and O/A Levels will be conducted as per schedule in Punjab.
Federal Education Minister Mr. Shafqat Mahmood
Decisions regarding exams are final. Students should start preparing and working hard. The government will not change this decision so no one should have any uncertainty in their mind. They have done everything to keep interest in education. My very best wishes to everyone.
In the Education Ministers conference today it was also decided unanimously that all exams will take place. A/ AS and O level date sheets have already been announced. Classes 9 to 12 exam dates will be announced by respective boards but after Eid.
Education/Health Ministers of Pakistan unanimously made the following decisions at NCOC today: 1) in districts affected by corona classes from 1 till 8th will remain closed till 28th April. 2) In these districts classes 9th till 12th will resume in a staggered manner from April 19th.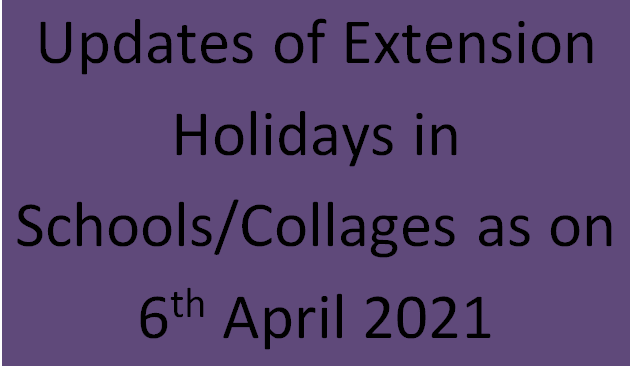 Sindh Government has already announced closing schools till 21st April 2021 from ECE to 8th Class. throughout the province for private and Govt schools. As soon as Sindh Government, Balochistan, and KP Government announce further holidays/closing of educational institutions, I shall update here.