Last Updated on April 19, 2022 by Galaxy World
It is to inform all the Government employees of Khyber Pakhtunkhwa that Registration for Plot and Houses for KPK Govt Employees has been started. The employee can apply for a plot, flat or house. The Government will allot Plots/houses in the following Divisional Headquarters and you may select up to two preferences:
Plot and Houses for KPK Govt Employees Division Headquarters
Malakand Division
Hazara Division
Mardan Division
Peshawar Division
Kohat Division
Bannu Division
D.I. Khan Division
Kohat Division
Bannu Division
D.I. Khan Division
Latest Updates as on 22-04-2020
According to the official updates of KPK Housing Authorities, the department is working on the project. The project may delay due to COVID-19.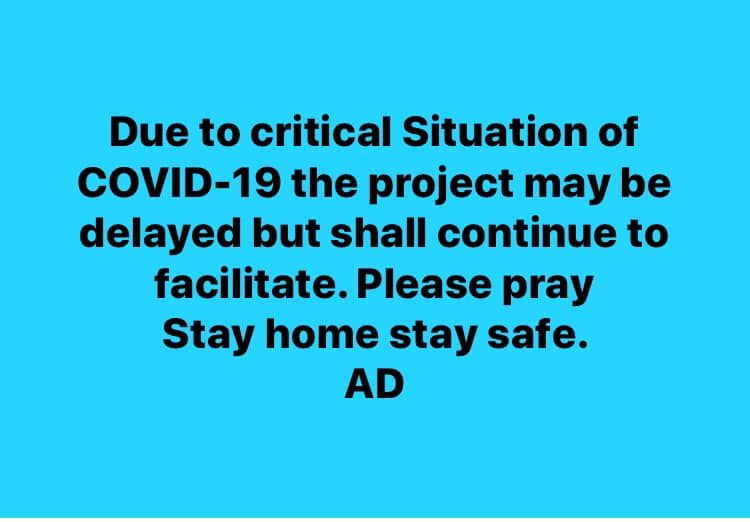 Updates 24 February 2020
The Government of Khyber Pakhtunkhwa will get such type of land for the houses, plots and flats for the KPK Employees that is not able to be cultivated or it s a barren land. This land must have the capability of water and road. The Housing Department will allot the plots /flats etc to the Government employees at the actual cost and there will be charged no extra free or profit from the servants. The housing facility will be in three steps:
1-  Employees Retiring upto December 2029
2- Government Employees Retiring up to 2039
3- The Employees Retiring up to 2049
Updates January 2020
According to the latest updates, Land has been identified in Peshawar and other districts of the province of KPK. The department will soon provide the Logins to the employees to enter their accounts and check and edit their details online.
Latest Updates as on 20-12-2019 ********************************************************
The latest updates for the KPK Employees plots and houses is that Land has been identified in Peshawar as well other suitable districts of the province. Procurement has been started. The department will give soon login and password. The employees can edit their their form and can check the details of their form / plot. Just wait for two weeks more.
Online Registration for Plot 
Online registration of plot / house etc for KPK employees is to be expected soon. The employee who could not apply / send their application within the stipulated period are also eligible to apply online. As soon as the process start, I shall share the link to apply online here at the same post.
Apply Online 
Updates For Houses & Plots for KPK Employees as on 21-10-2019 by Mr. Zia ur Rehamn.
You can now apply online at the above given link.
Government of the Khyber Pakhtunkhwa has issued Notification on 21st October 2019 Detail is as under:
Please refer to this office letter of even No. Date 11-09-2019 on the subject noted above and to state that the survey regarding need assessment of housing for Government Servants produced overwhelming response. More than 1,30,000 Government Servants participated In the survey About 30% opted for house while 70% opted for plots in various categories.
Now, in order to take the process Further, membership drive for the Government Servants as defined under Chapter 4, Section (10) of PHA Act, 2005 and defined in Regularization 2008, Section (2) Succession       (d) has been launched.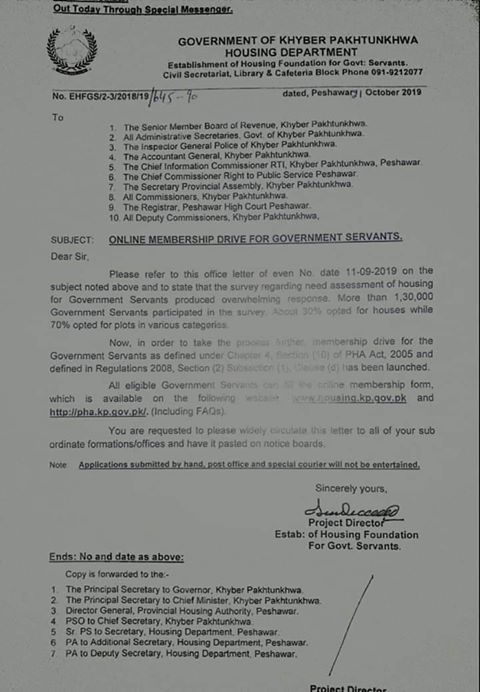 Detail and Procedure of the Housing Scheme
Establishment of Housing Foundation for Government Servants a project under the ADP scheme. Govt launched the same with the objective of the facilitation of a government servant in owning their own houses. In this respect, a need assessment exercises they are carrying out so that arrangements for land at various sites they can make and thus start registration drive.
You are, therefore, requested to please widely circulate this letter and paste It on noticed board so that interested government servants can fill up the registration form is also available on the website https:/pha.kp.gov.pk/page/downloads. The registration form the employees can submit via Email i.e. housing [email protected] or to the office of the Project Director Housing Foundation through registered posts on the address i.e. "Establishment of Housing  Foundation for Government Servants". Library & Cafeteria Block Civil Secretariat Peshawar, before the last date of registration i.e. 30th September 2019.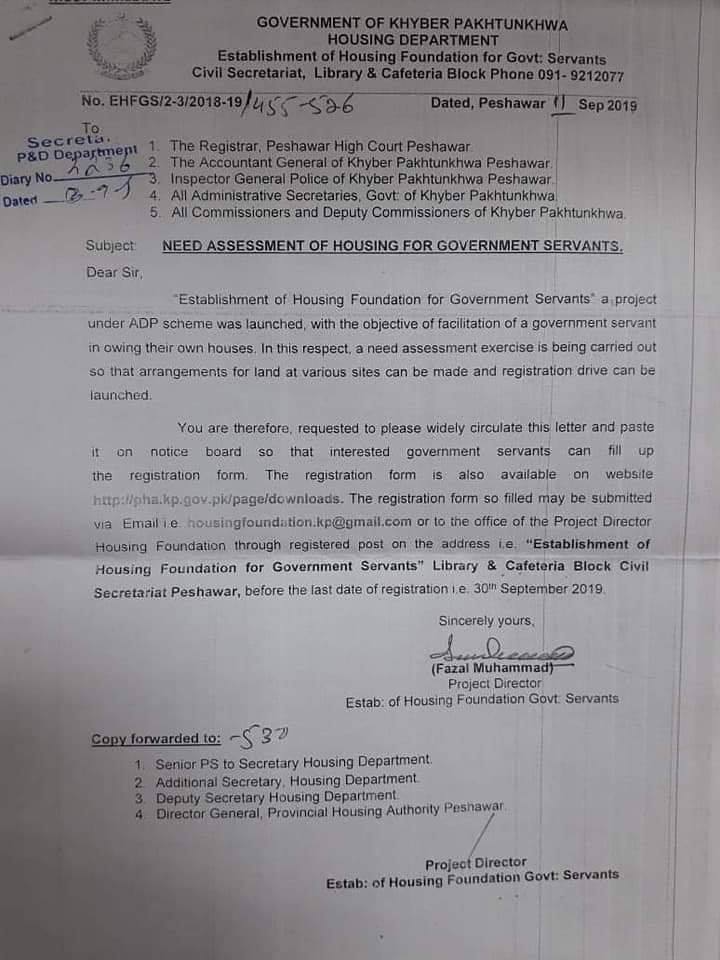 Registration Form
You can download registration form for the housing sachem for the kpk government employees below:
Data required to fill the Registration Form
Personal No.
Name of Applicant
Husband / Father's Name
N.I.C No
Date of Birth
Gender
Present status
Department
Current Posting
Date of Entry in Govt Service
Date of Retirement
Official Address
Postal Address
Permanent Address
Email
Office No.
Mobile No.
District of Domicile
Pay scales
It is to mention here that Govt of Pakistan has also initiated for Federal Government Employees Housing Scheme Phase-II as well as the process of registration in Naya Pakistan Housing Scheme is continued. The willing employees can apply for these housing schemes before the closing dates.