Last Updated on April 26, 2021 by Galaxy World
It is not a dream to earn money online as many people think so. It is reality and thousands people in Pakistan and millions in the world have fulfilled their dream to Earn Money Online At Home.  There are so many Pakistanis who are earning a thousand dollars per month by adopting online work.  Most of the online jobs don't require fixed time to work. You can work online at any time of the day. You can also do the online work as Part-Time Jobs. Detail of the online learning /training of the programs under the Ministry of Information, Technology and Telecom Government of Pakistan are as under:

Registration for Batch 7
Digiskills is starting registration for Batch 7 of the digiskills course soon. According to the DigSkills sources the registration starts with effect from April 24, 2020 11 am.  The willing candidates should register themselves as soon as possible and they should be ready on the same date as due to rush of the registering persons and a limited number of vacancies, there may be difficulty or impossibility to register. The same situation the candidates had to face during the batch No. 6. Many candidates could not register themselves.
So adopt the policy of first-come, first register.
Registration to Get Free Training for batch-5 to Earn Money Online at Home
You can register yourself for the course enrollment for batch-05 on a first-come-first-served basis. The registration process has been stated. In this batch there are total of 250000 seats. You should make a hurry to enroll as early as possible as the seats may run out soon.  There are total of 10 courses and the trainees can enroll themselves maximum for two courses. For the newly registered it is compulsory to register one course as "Free Lancing" and the 2nd they can select at their own choice.  The trainees who have participated in the previous 4 batches can also register in 2 other courses.
Register for Batch-5
Step by Step Guideline to Register for Free Courses Batch-5
You must have an email ID and cell phone number to register for these courses. Both are used for verification.
Step 1 (Registration)
Just go to the above link and you will see the given below screen.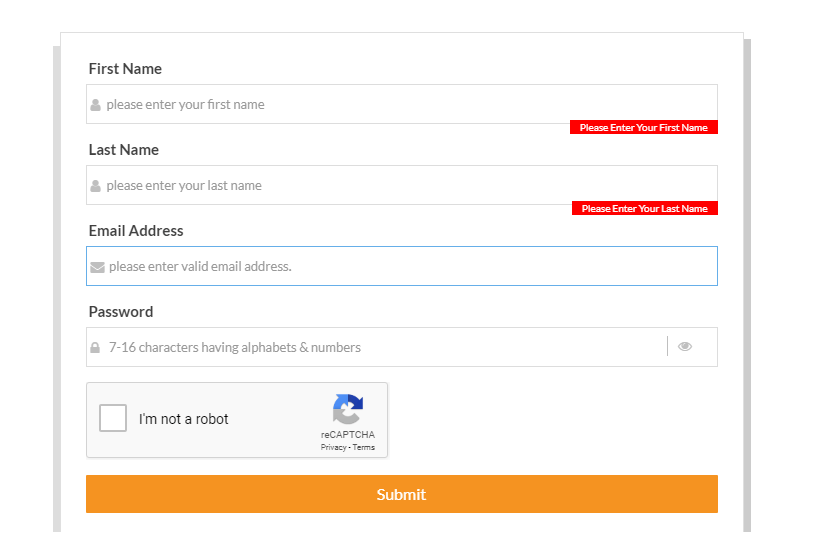 Fill the form with your First Name, Last Name, Email Address and in the password cell, just type any password and remember this password too. It is better you write the same password at a proper diary. After entering the passport just click "Submit".
The 1st step is completed and you will see the following Congratulations message.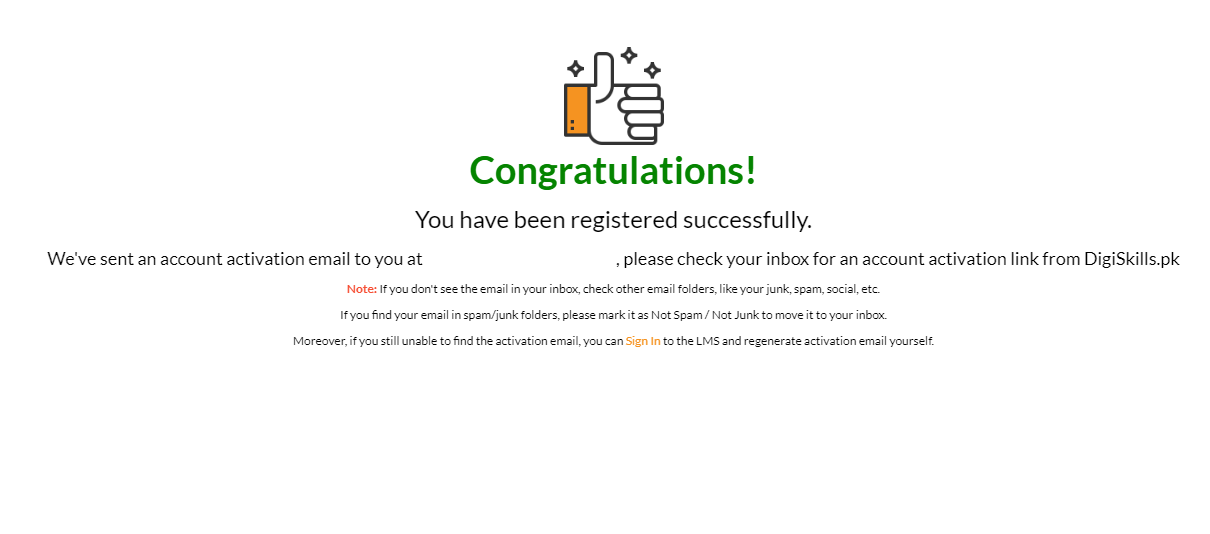 Just go the email and just find the email (Generally it received in "Updates" Folder.  Just open the email and click on the link as shown and circled in red in the picture.
You will again receive the "Congratulations" message with showing that you have successfully activated your account.
Just click now "Sign in now" there and enter your email address and password and click "Sign IN" you will lead to a new window for Step 2.
Step 2 (Profile Completion)
In this step you will have to fill another form with the following fields:
First Name (compulsory)
Middle Name (Optional)
Last Name (Compulsory)
Gender: Male / Female
Date of Birth
CNIC Number /B-Form /NICOP (Select personal or parents / guardians)
Select Country /City
Mailing Address (Postal Address)
Mobile Cell Number
Select Personal Computer or Laptop at Home
Select any Internet facility at home
Then expand the Qualification / Experience Tab by clicking "+" and you will see the following screen:
Fill the cells with Highest Qualification, Specialization and Current Status, Future Plan etc
Again expand the Proficiency / Interests by clicking "+" and you will see the given below screen.  Just select the required as given as under:
Rate your computer proficiency
Rate your English Language proficiency; Speaking and Writing
Your purpose of joining the course
What would you like to learn?  There are 10 courses you can select here all but minimum 1.
Where did you hear about us?
Are you familiar with free lancing?
Select the above required fields and then click "Submit". You have completed step 2 for the profile.
Selection of Courses For Online Free Training (Step 3)
The earlier you selected the courses were not final, that was your interest. You can say that you have not yet final the process. In this step just click on the "Sign In" in the main page. After entering your email and password you will see the given below screen:
Here is clearly written in blue colour row "Dear Trainee, course enrollment for Batch 5 is open. You can enroll your desired course till November 5, 2019 11:59 PM.
Just click "Enroll Now" and there will appear the following page:
Select/Drag any two courses only of the following:
AutoCAD
Creative Writing
Digital Literacy
E-Commerce Management
Freelancing
Graphic Design
QuickBooks
WordPress
If you are registered at first time then you will have to select 1st Course "Free Lancing" it is compulsory and the 2nd depends on your own choice. After selecting two course just save it. Now you will see the following page saying " Dear Trainee, You have enrolled in batch-05, course will start on 6th Nov, 2019.
Just wait at that time and you will receive the selected course.
All is done. If you have any query / question in this regard you can comment below. Thanks