I am sharing here the Bills to be moved on 3rd February 2020 Regarding Enhancement Salary of Parliamentarians in the Senate of Pakistan. The summary of the same is as under:
The bills that are to be introduced are to increase the salary of the following:
Chairman and Speaker (Salaries, Allowances and Privileges) Act 1975
Deputy Chairman and Deputy Speaker (Salaries, Allowances and Privileges) Act 1975
Members of Parliament (Salaries and Allowances) Act 1974
The following parliamentarians will move the bills:
NASEEBULLAH BAZAI
SAJJAD HUSSAIN TURI
SARDAR MUHAMMAD YAQOOB KHAN NASAR
DILAWAR KHAN
DR. ASHOK KUMAR
SHAMMIM AFRIDI
As soon as I get the further updates regarding Enhancement Salary of Parliamentarians, I shall share the same here for the information of the concerned.
Latest Updates 03-02-2020: 
This was a private bill and nearly 95% members of the parliament were in favour of the bill but before the meeting. But at the time of voting most of the members went against this bill. According to the latest updates as on 3rd Feb 2020, bill has been rejected. 16 members favored this bill and 29 members went against this bill. Many members during the discussion, suggested that the salaries of all the employees should be equalized. One member said that the salary of supreme court employees and many other departments employees should be as as other employees of the country. A member also proposed that his salary should be equal to the guard that was present in the house.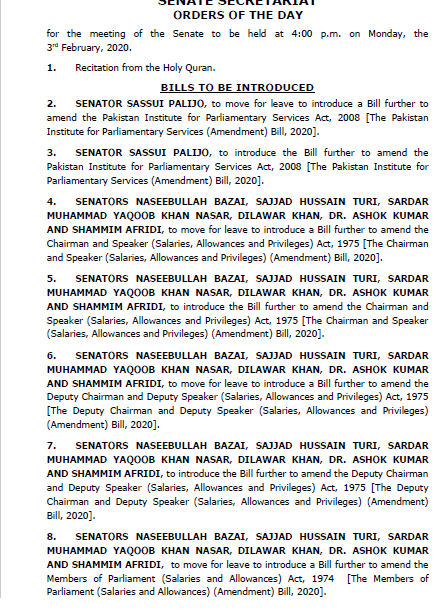 You may also like: Bill regarding Increase salaries assembly members