Last Updated on April 13, 2020 by Galaxy World
Federal Ministry of Education and Pakistan Television is Launching of Tele School Education TV for Students to Learn Online. Due to the Corona Virus Lockdown in the country, the schools and all the educational institutions in Pakistan are closed.
Tele School Education TV for Students
The Ministry of Federal Education and Professional Training has started a new TV channel 'Teleschool' in collaboration with PTV. The channel will be available on satellite, terrestrial and cable.
The satellite details are as follows:
Satellite: Paksat IR
Orbital position: 38'E
Downlink Frequency: 4052 MHz
Downlink Polarity: Vertical
Symbol Rate: 5185 KSPS
FEC: 3/4
Please ask your cable operator for a channel position. PEMRA has issued instructions to carry this on all cable networks.
The channel will beam programs from 8 am to 6 pm every day and will deliver content from grades 1 to 12. The content has been provided by leading Edtech companies including Sabaq, MUSE, Taleemabad, and Knowledge Platform.
The channel will be launched on 13 April 2020 by PM Imran Khan and will go on air for regular broadcast on 14 April 2020 at 8 am InshaAllah.
Summary in URDU
وزارت تعلیم اور پیشہ ورانہ تربیت نے پی ٹی وی کے اشتراک سے ایک نیا ٹی وی چینل 'ٹیلی اسکول' شروع کیا ہے۔  یہ چینل کیبل پر دستیاب ہوگا۔
سیٹلائٹ کی تفصیلات درج ذیل ہیں:
مصنوعی سیارہ: پاکسٹی آئی آر
مدار کی پوزیشن: 38'E
ڈاؤنلنک فریکوئینسی: 4052 میگاہرٹز
ڈاؤنلنک پولرائٹی: عمودی
علامت کی شرح: 5185 کے ایس پی ایس
ایف ای سی: 3/4
براہ کرم چینل کی پوزیشن کے لیے اپنے کیبل آپریٹر سے پوچھیں۔  پیمرا نے تمام کیبل نیٹ ورکس پر یہ کام جاری رکھنے کی ہدایت جاری کردی ہے۔
یہ چینل روزانہ صبح 8 بجے سے شام 6 بجے تک پروگراموں کو شہادت بخشے گا اور 1 سے 12 جماعت تک کے تعلیمی مواد کی فراہمی کرے گا۔
یہ چینل 13 اپریل 2020 کو وزیر اعظم عمران خان کے ذریعے لانچ کیا جائے گا اور 14 اپریل 2020 کو صبح 8 بجے انشاء اللہ باقاعدہ نشریات کے لئے نشر ہوگا
Time Table for TeleSchool
Time table for TeleSchool transmissions.
Lectures from Class 1 / KG to 2nd Years, the TeleSchool transmit as per the given schedule.
Grade KG & 1 = 8 am to 8:30 am
Grade 2 = 8:30 to 9:15 am
The Grade 3 = 10 am to 10;45 am
Grade 4 = 10:45 to 11:30 am
Grade 5 = 11:30 to 12:15
The Grade 6 = 12:15 to 12:45 Noon
Grade 7 = 12:45 to 1:15 pm
Grade 8 = 1:15 to 2 pm
The Grade 9 = 2 to 3 pm
Grade 10 = 3 to 4 pm
The Grade 11 = 4 to 5 pm
Grade 12 = 5 pm to 6 pm
STAY HOME STAY SAVE BUT KEEP LEARNING.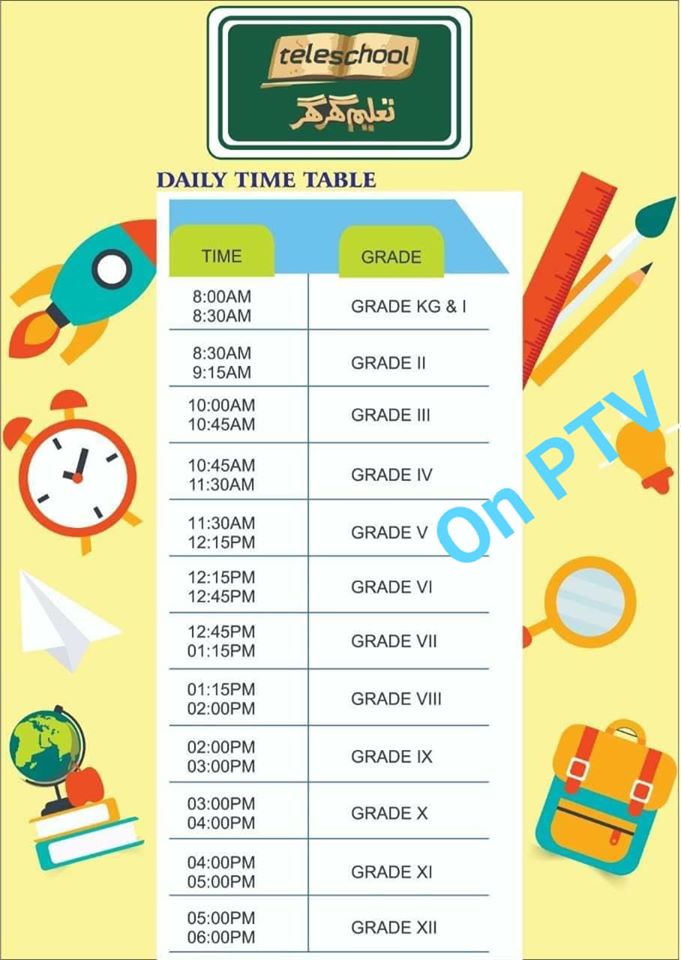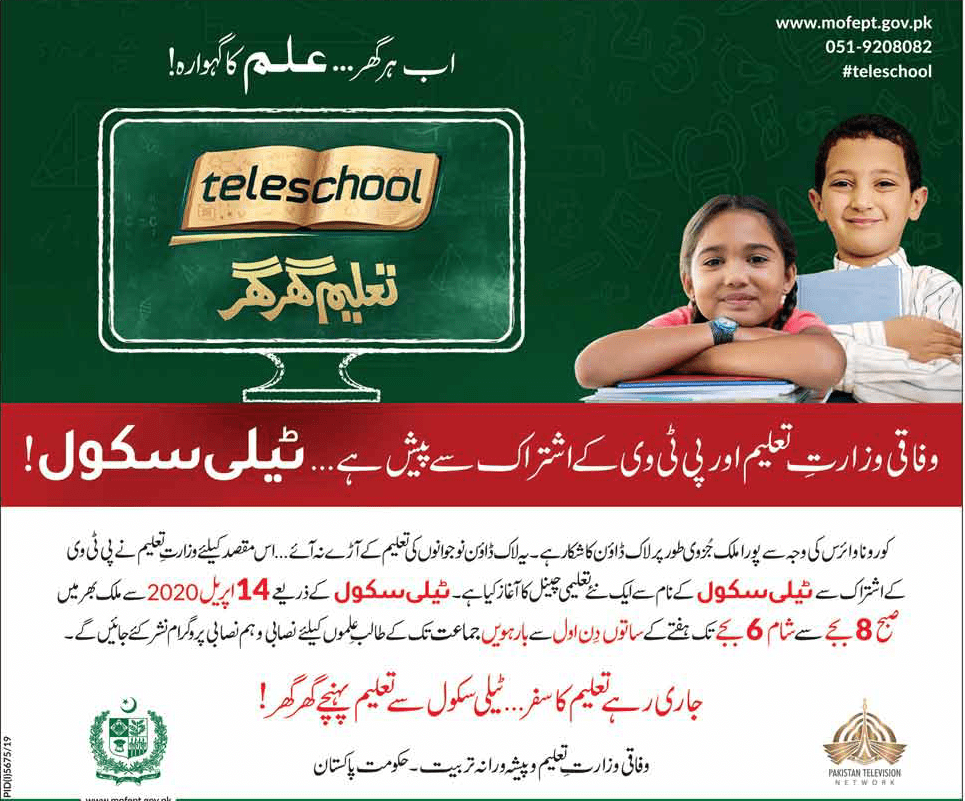 You may also like: Get Free Training and Earn Money Online