Last Updated on August 10, 2021 by Galaxy World
Government of Pakistan, Establishment Division Staff Welfare Organization has issued Notification on 03-08-2020 in connection with Grant of Rehabilitation Aid to Federal Government Employees and Their Dependents 2020-21. The details are as under:
Rehabilitation Aid to Federal Government Employees & Their Dependents
The staff welfare organization will provide the below mentioned items to the physical disable Federal government employees and their dependents:
Wheel Chair
Leg Braces
Tri-cycle
Artificial Leg Prosthesis
Hearing Aid
Crutches
Neck Collar
Surgical Shoes
Medical Jacket
Arms Prosthesis Medical Board for Rehabilitation Aid
Any other item recommended by the Regional
Last Date to Apply:
30-10-2020
Where to Apply:
The employees should apply at the five regional offices of the Staff Welfare Organization. These Regional Offices are located at Lahore, Karachi, Quetta, Peshawar and Islamabad.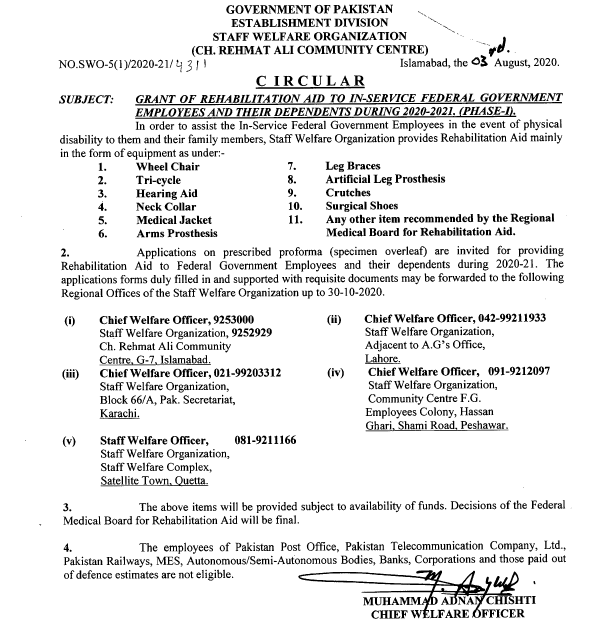 You may also like: Instructions HSSC/SSC Special Exam 2020