Last Updated on December 13, 2022 by Galaxy World
Government of Pakistan, Federal Directorate of Education issued a Notification on 13-12-2022 in connection with Winter Vacation 2022 Federal. The details are as under:
Winter Vacation 2022 Federal Directorate of Education Islamabad
According to the Notification, all Federal Government Educational Institutions in Islamabad will observe winter holidays with effect from 26th December 2022 to 31st December 2022. There are weekly holidays on 31st Dec 2022 and  1st Jan 2023. So the educational institutions will re-open on 2nd Jan 2023 after winter vacations 2022.
Winter Holidays 2022 FDE
Winter Vacations in Pakistan usually start in the last week of December. As December has started. The temperature keeps falling. The smog in Pakistan has become a big problem in winter. People usually become prey to diseases caused by coldness and smog.  The students are falling sick these days. Infectious diseases like Cold, cough, and flu are spreading.
The Punjab Educational Board has issued the schedule for winter vacation.  The winter vacations in Punjab shall start on 24th December 2022 and End on 31st December 2022. All the educational institutions shall remain closed as per schedule.
Keeping in view, the tradition and policies of Pakistan,
Contents of the Notification
            The Federal also issues the schedule for the winter vacation. The winter vacations in all educational institutes working under Federal Government shall start accordingly. The vacations shall start on the 26th of December  The Educational activities shall resume on the 2nd of January 2022.
Winter vacations in other institutions shall be from 26th December 2022 to 31st December 2022.
The Federal Government also asks all the teaching and non-teaching staff not to leave the station in case any task/duty is assigned to them and due to the local Government Election.
Punjab, Sindh, KPK, AJK, GB, and Balochistan governments will issue their own Notifications soon. To know about the latest update winter vacation 2022 for all these governments you have the check the same regularly.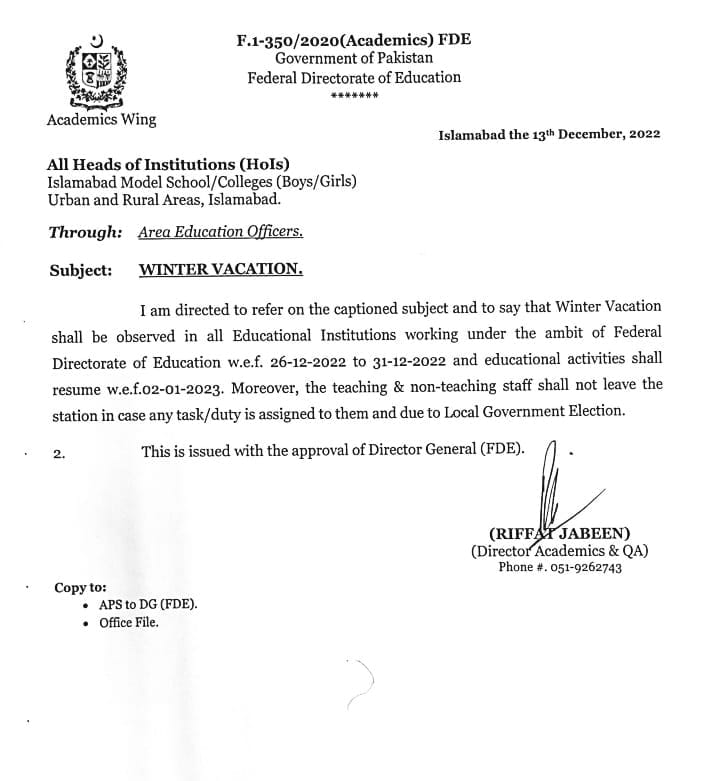 You may also like: Advance Salary December 2022