Last Updated on March 7, 2023 by Galaxy World
Government of Pakistan, Finance Division issued a Notification on 22-02-2023 in connection with the Grant of Teaching Allowance and Science Teaching Allowance. The details are as under:
Grant of Teaching Allowance and Science Teaching Allowance
I direct to refer to the subject notified above and to state the Finance Division is in receipt of requests from various quarters regarding the simultaneous admissibility of teaching allowance and science teaching allowance. In order to resolve that issue. It is clarified that only teaching allowance granted vide Finance Disvision's O.M. dated 24.06.2006 copy enclosed0 shall continue to be admissible in future to all teaching staff of the Federal Government's Education institutions. Any other allce with the nomenclature of teaching allce or science teaching allce shall be discounted w.e.f. 01.03,2023 as teaching allowance at enhanced rate has already been granted in the year 2006.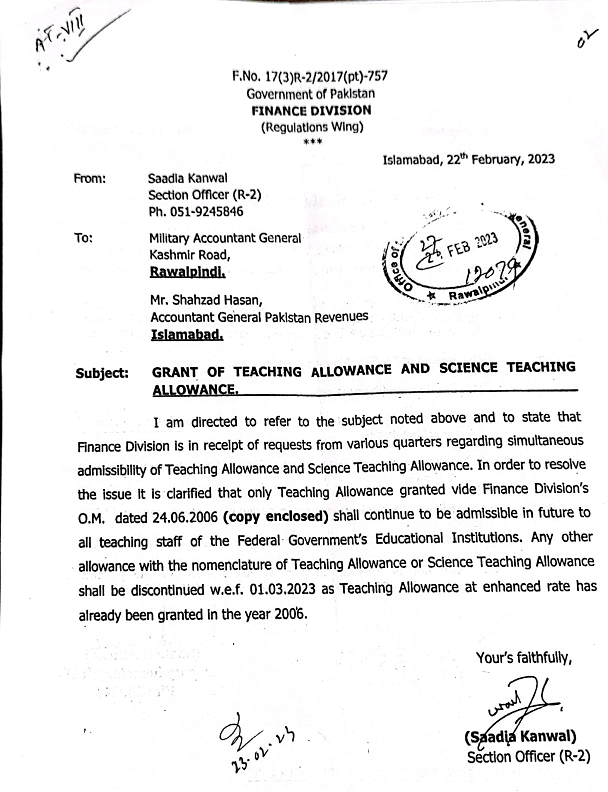 You may also like: Clarification Admissibility Motorcar Advance
Revised Rates of Teaching Allowance 2006
The rates of teaching allowance were lower before 2006 but the Finance Division enhanced the rates of the said allowances with effect from 1st July 2006. The latest rates chart is as under:
| | | |
| --- | --- | --- |
| Sr. No | Qualification of Teacher | Rate of Teaching Allowance per Month |
| 1 | Matric with PTC or Equivalent | Rs. 1000/- |
| 2 | FA/F.Sc with CT or Equivalent | Rs. 750/- |
| 3 | BA/MA with B.Ed/Med and above or equivalent | Rs. 1000/- |
Teachers who have no professional qualification of PTC, CT, or B.Ed are not entitled to the Teaching Allowance. Only having the prescribed professional qualification will get this teaching allowance.
Teachers who are deployed on teaching duties will get this teaching allowance.
Heads of Educational Institutions and their deputies will also get this allowance
The teacher on Extra Ordinary Leave (Leave without pay) will not get the teaching allowance.
Teachers will also get this allowance during vacations, leave, and LPR.
This allowance cannot be part of Pension and Commute/Gratuity etc.